https://hameemmias.vuodatus.net/lue/2017/06/ranskan-tutkimus-syyrian-kaasuista-todistaa-tosiasiassa-etta-hallitus-ei-ollut-syypaa-vuoden-2013-kaasuihinkaan
YLE ei juurikaan käsitä, mitä se kulloinkin valehdella löröttelee.
Paraatiesimerkki on uusin uutinen, että Syyrian viimeisimmässä kaasu- iskussa olisi läytetty samaa ainetta kuin vuoden 2013 kaasuiskuissa, JOITA EI MISSÄÄN OLE TODISTETTU PITÄVÄSTI HALLITUKSEN TEKEMIKSI, mutta joiden perusteella "länsi" aloitti sotaanpuuttumisen sodanosapuolena.
VIIMEISIMMÄT ISKUT EIVÄT MISSÄÄN TAPAUKSESSA OLLEET HAL- LITUKSEN TEKEMIÄ: MUU OLISI SAMAA KUIN OLYMPIAVOITTAJA HÖRPPÄISI DOPING-AINETTA MAALIVIIVALLA VÄLTETTYÄÄN AINAKIN KÄRYN ELLEI KOKO RIKOKSENKIN SITÄ ENNEN!
http://yle.fi/uutiset/3-9582479
Ranska esitti todisteita sille, että Syyrian hallitus oli vastuussa kemiallisesta iskusta
Huhtikuun 4. päivän iskun kemikaalista otetut näytteet täsmäävät Syyrian hallituksen 2013 tekemään iskuun.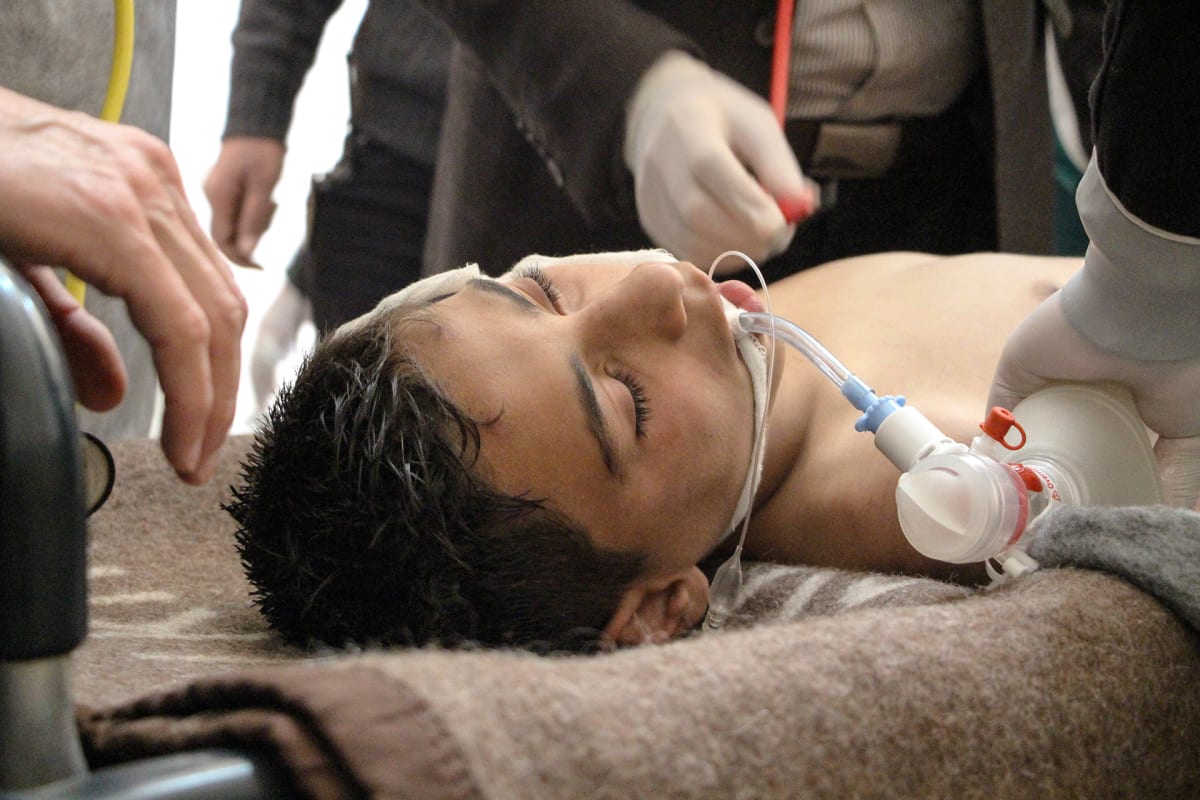 Syyrialainen uhri väitetyn kemiallisen iskun jälkeen Saraqibin kenttäsairaalassa 4. huhtikuuta.
 Ranskan ulkoministeri 
Jean-Marc Ayrault
on esitellyt 
todisteita
sille, että Syyrian hallitus oli huhtikuun 4. päivänä tehdyn kemiallisen iskun takana.
(Saksankielenopettaja-Nosken järjellä ei liika  voi vaatia…RJK)
Syyrian presidentti Bashar al-Assad on kiistänyt hallituksen joukkojen tehneen yli 80 kuolonuhria vaatineen iskun.
Ranskan mukaan iskussa käytetyistä kemikaaleista sekä yhden uhrin verestä otetut näytteet täsmäävät Syyrian hallituksen vuonna 2013 iskussaan käyttämiin kemikaaleihin.
(VAI VIELÄ "SYYRIAN HALLITUKSEN KÄYTTÄMIIN…!!!!)
Kemikaalin valmistusmenetelmä vastaa Ranskan mukaan tapaa, jota syyrialaisissa laboratorioissa käytetään.
(Kyseiset laboratotoriot eivät sitten ilmeisesti ole viimeisen neljän vuoden aikan kuitenkaan olleet toiminassa KEIDEN SITTEN LIENEVÄTKIN, tai, mikä on ilmeisintä: KAASU ON HELVETIN VANHAA, luultavasti Saddamin perintöjä ISISille.
Kannattaisikin ehkä vielä tutkia mm. Halabjan uhreja (josko sitten "SYYRIAN HALLITUS sielläkin"…)
– Ranskan tiedusteluviranomaisten mukaan vain Bashar al-Assad ja hänen lähipiirinsä voivat antaa käskyn kemiallisten aseiden käyttöön, ranskalaisraportissa sanotaan.
Sen mukaan iskun alueella toimivilla opposition taistelijoilla ei ole kykyä toteuttaa vastaavanlaista iskua. Isis-järjestö puolestaan ei edes toimi tällä alueella. "
ISIS on toiminut ja toimii piilevästi Joka paikassa siellä päin.
Ranskan "raportti":
.
Syria/chemical attack/scientific analysis
.
Syria – Chemical attack – Statement by M. Jean-Marc Ayrault, Minister of Foreign Affairs and International Development, following the Select Defence Council meeting Paris, 26 April 2017
 .
Ladies and gentlemen,
 .
The chemical weapons attack in the town of Khan Sheikhoun, Syria, on 4 April killed over 80 people, 50 of them immediately; it wounded more than 500 others.
.
The victims choked to death after gas paralysed their nervous system. I told you a few days ago that France was convinced of the Syrian regime's responsibility in the attack and that evidence of this would be provided.
.
This morning the Defence Council examined the interministerial work which was carried out, and I'll talk to you about this now.
.
In view of the horrific attack and Syria's repeated violations of its com- mitments to stop using weapons banned by the international commu- nity, France has decided to share the information at its disposal with its partners – who were informed over night – and the general public.
.
The conclusions published in the national assessment – which we will be making public today – are based on painstaking investigations and analyses by French intelligence.
 .
This information allows us to draw conclusions on three key aspects of the Khan Sheikhoun attack.
 .
Firstly, the nature of the chemical used, secondly the manufacturing process, and finally, how it was dispersed. As regards the nature of the chemical, we now know that the chemical agent responsible for the deaths of more than 80 people is indeed sarin.
.
Environmental samples and samples from the victims were taken immediately after the attack and at the site of the attack.
 .
Moreover, this analysis has been confirmed by several of our partners and also the OPCW, the Organization for the Prohibition of Chemical Weapons, which itself stated on 20 April that its own investigation had already concluded that sarin was used.
.
Moving on now to how the chemical was manufactured: we are reliably informed that the manufacturing process for the sarin, which was sampled, is typical of the method developed in Syrian laboratories. This method bears the hallmarks of the regime and is what allows us to establish its responsibility in the attack.
.
We know this because we kept samples from other attacks and were able, in what were obviously the relevant laboratories, to compare them. We are in a position to confirm that the sarin used on 4 April is the same sarin used in a grenade attack in Saraqeb on 29 April 2013, from which one of the grenades was retrieved and analysed by our services. "
 .
Keskustelua:
.
Make kommentoi_ 26. huhtikuu 2017 23:36
.
"VIIMEISIMMÄT ISKUT EIVÄT MISSÄÄN TAPAUKSESSA OLLEET HALLITUKSEN TEKEMIÄ"
Aika perustelematon väite, ei kestä missään mielessä, eikä Koivulalla ole mitään mahdollisuutta tukea väitettään. Koivulan täällä itse usein esittelemät sympatiat Kremlin diktatuurin suuntaan tietenkin soittavat hälytyskelloja.
Avaaja taisi pyrkiä kunnallisvaaleissa Tampereen kaupunginvaltuus- toon kommunistien edustajana, joten se ehkä selittää miksi hän sympatisoi Venäjän oikeistolaista diktatuuria ja omaa kansaansa kaasulla myrkyttävää entistä arabisosialistia.
Selitys tietenkin on, että kommunisteille pahin mahdollinen vihollinen on oikeusvaltion demokratia. Tuossa viitekehyksessä he ovat marginaalissa ja kaveriksi kelpaavat kai- kenkarvaiset diktatuurit ja oman kansansa tappajat. Pahinta heille ovat ns. "fasistit", jolla siis tarkoitetaan nykyään pohjoismaisen oikeusvaltion kannattajia.
.
John kommentoi_ 26. huhtikuu 2017 23:42
En usko itsekään että hallitus olisi ollut takana. Miksi olisi? Assad oli voittamassa.
.
Make kommentoi_ 27. huhtikuu 2017 00:39
"En usko itsekään että hallitus olisi ollut takana. Miksi olisi? Assad oli voittamassa."
Yhdenrivinjohn ei vain petä. Mikä hallitus? Minkä takana? Oliko Assad voittamassa ja mitä?
.
Risto Juhani Koivula kommentoi_ 27. huhtikuu 2017 00:47
Syyrian hallitus.
.
Make kommentoi_ 27. huhtikuu 2017 00:51
Syyrialla ei ole enää yleistä legitimeettiä nauttivaa hallitusta. Ketä tarkoitat?
.
Risto Juhani Koivula kommentoi_ 27. huhtikuu 2017 04:52
Sillä on formaalia YK-legitimiteettiä nauttiva hallitus, jolla on vähän ongelmia "pää- väestön" sunnisyyrialaisten kanssa, mutta jota maan kansalliset vähemmistöt, joita on puolet asukkaista, varsin jakamattomasti kannattavat (alawiitit, druusit, kristityt, palestiinalaiset, armenialaiset jne.) tai ainakin sietävät (kurdit).
.
Scientist kommentoi_ 27. huhtikuu 2017 08:55
Niin onhan näitä muutenkin eäilty USA:ssa, mm. yksi johtavista rakettiteknologian asiantuntijoista.
http://www.washingtonsblog.com/2017/04/66712.html
Hänen mukaansa sariini olisi levitetty räjäyttämällä tykinputkessa maan pinnalla. Missään nimessä ei ole todisteita siitä, että se olisi varmasti tullut ilmateitse.
Täytyy myös miettiä ketä tämä hyödyttää- ei ainakaan Assadia, jka oli jo muutenkin vahvoilla tässä tilanteessa. Makes no sense, kuten mm. Ron Paul (entinen presidenttiehdokas, libertaari) ja senaattori Black ovat todenneet.
Tätä kaikkea Yle ei suvaitse tuoda esiin, vaan toistaa USA:n/Trumpin virallista tarinaa.
.
Juutas kommentoi_ 27. huhtikuu 2017 13:53
Tämä on ihan kiinnostava keskustelu lukea. Vertaan sitä parhaimmillaan luettavana olevaan kirjaan Infosota. Yksi ns. trollaamiseen liittyvä piirre on se, että vaaditaan todisteita,ei uskota vasta-argumentteja  ja heitetään ilmaan uusia epäilyksiä. Linjaan kuuluu myös se, että jos on mahdollista, estetään tutkimukset tai haitataan niitä.
Juuri se on ollut linjana Ukrainassa alas ammutun matkustajalentokoneen asiaa selviteltäsessä.
Kukahan tässä trollaa ketä?
Uskallan ihan pikkuisen epäillä Syyrian hyvän hallituksen suosiota. Koko rähäkkä al- koi Homsista tyytymättömyytenä elämisen laatuun ja hallituksen toimin. Jos se hallitus oli siedettävä, miksi syttyi maan laajuinen palo?
.
Risto Juhani Koivula kommentoi_ 28. huhtikuu 2017 02:58
ISIS syntyi Irakissa ja levisi sieltä Syyriaan. Syyriassa oli Al-Nusra, pääpaikkanaan Homs, joka onnistui leikkimään "länsimielisen opposition" osaa,vaikka oli tosiasiassa Al-Qaidan osa, sen "eliitti" ja etuvartio.
.
" UN's Carla Del Ponte: 2013 chemical attack was done by Syrian rebels, not Assad "
Risto Juhani Koivula kommentoi_ 9. kesäkuu 2017 04:04
https://www.youtube.com/watch?v=gha4jkiSlRw&feature=share
Jo silloin oltiin valppaana…
http://aamulehdenblogit.ning.com/profiles/blogs/carla-del-ponte-syyrian-kapinalliset-k-yttiv-t-hermokaasua
Carla del Ponte: Syyrian kapinalliset käyttivät hermokaasua
Haagin Jugoslavian ja Ruandan sotaerikoistuomioistuimien entinen pääsyyttäjä,YK:n asettaman Riippumattoman Syyrian tarkkailijaryhmän jäsen, YK:n Seniror Adwiser Carla del Ponte katsoo todisteiden osoittavan vahvasti siihen suuntaan, että hermokaasua käyttivät Syyriassa kapinalliset eikä hallitus:
UN Official, Syrian Rebels Used Sarin Nerve Gas, Not Assad's Army
Testimony from victims now strongly suggests it was the rebels, not the Syrian  government, that used Sarin Nerve Gas during a recent incident in the revolution-wracked nation, a senior UN diplomat said Monday.
Carla del Ponte, a member of the UN Independent International Commission of Inquiry on Syria, told Swiss TV there were "strong, concrete  suspicions but not yet incontrovertible proof," that rebels seeking to oust  Syrian President Bashar al-Assad had used  the nerve agent.
But she said her panel had not yet seen any evidence of Syrian government forces using chemical weapons (CW), according to the BBC, she added that more investigation was needed.
Damascus is facing growing Western accusations that its forces used  such wea-pons, which US President Obama has described as crossing a Red Line. But Ms. del Ponte's remarks may serve to shift  the focus of international concern.
Ms. del Ponte, who in Y 1999 was  appointed to head the UN was crimes tribunals for Yugoslavia and Rwanda, has sometimes been a controversial figure. She was re- moved from her Rwanda post by the UN Security Council in Y 2003, but she conti- nued as the Chief prosecutor for the Yugoslav tribunal until  Y 2008.
Rebel Free Syrian Army spokesman Louay Almokdad denied that rebels had use chemical weapons (CW).
kESKUSTELUA:
Sillähän ei ole merkitystä, kuka sitä on käyttänyt, vaan sillä, että käytetty on. Käyttäjä saa ansioidensa mukaan.
Lähi-idän ruutitynnyri näyttää mutkikkaalta, mutta vielä mutkikkaampi on Afganistanin tilanne.
"kun ymmärrämme kuvan, sota on voitettu…" Kaikki asiat eivät alistu bulleteiksi ja liika yksinkertaistaminen voi johtaa illuusioon hallinnasta.
We Have Met the Enemy and He Is PowerPoint
Spammiro Botti kommentoi_ 29. elokuu 2013 01:00
"It's dangerous because it can create the illusion of understanding and the illusion of control," General McMaster said in a telephone interview afterward. "Some problems in the world are not bullet-izable."
http://www.nytimes.com/2010/04/27/world/27powerpoint.html?hp
Syypää oli Al-Nusran rintama, joka 2013 esiintyi "opposition" päävoimana, mutta joutui myöhemmin tunnustamaan olevan Al-Qaidan/ISISin eliitti ja kärkijoukko (luoteessa, pääpaikkana Syyrian Homs.
http://aamulehdenblogit.ning.com/profiles/blogs/iskua-syyriaan-ei-ilmeisimmin-tule-vaan-yk-n-kriisinhallintaj
Kirjoittanut Spammiro Botti (11. syyskuu 2013, 09:00)
" Asiantuntija: Suurvalloille tuli tilaisuus pelastaa kasvonsa

Ehdotus Syyrian kemiallisten aseiden kansainvälisestä valvonnasta tarjoaa suurvalloille tilaisuuden pelastaa kasvonsa hankalassa tilanteessa, arvioi Ulkopoliittisen instituutin ohjelmajohtaja Mika Aaltola.
Sekä Yhdysvalloille että Venäjälle on hyvä, että asia saadaan ainakin toistaiseksi pois päiväjärjestyksestä.
Presidentti Barack Obaman oli vaikeuksia löytää sotatoimiin liittolaisia eikä hän ilmeisesti olisi saanut iskulle hyväksyntää kongressissa.
– Toisaalta Venäjän näkökulmasta (presidentti Bashar) al-Assadin kemiallisen aseen käyttö oli erittäin kiusallista, Aaltola sanoo.
Aaltola muistuttaa, että sopimuksen käytännön toteutus sisällissodan oloissa onkin sitten hyvin monimutkaista.
– Käytännössähän tämä tarkoittaa sitä, että luotetaan siihen, että al-Assad ei näitä (kemiallisia) aseita käytä.
Aaltolan mukaan Yhdysvaltain kyvyttömyys aseelliseen toimintaan heikentää maan vaikutusvaltaa Lähi-idässä.
Syyrian esimerkki voi myös nostaa kynnystä Yhdysvaltain mahdolliselle iskulle Iraniin, mikä taas voi houkuttaa Israelia toimimaan omin päin.